As per Hindu scriptures, Goddess Durga or Shakti is the the most powerful deity. She is Mother of Universe. Durga is the manifestation of mother Parvati when evil forces threatened the very existence of Gods. In Sanskrit, Durga means a place which is difficult to win. She got the name because of her protective and combative nature. She is the protector of what is good and harmony. It is  believed that she originated to kill the demon Mahishasura hence also known as Mahishasurmardini.
Maa Durga appearance
Maa Durga is depicted as  8 or 10 hands which represents 8 quadrant or 10 directions . Thus, it is believed that she protects her devotee from all the directions. She also holds different weapons in different hand like Sudarshan chakra, Sword, Trident, Bow and Arrows, Thunderbolt and Mace. She also holds Conch and Lotus in other two hands and one hand is in Abhaya Mudra.
Her Vehicle
She rides on a lion. Lion represents power, will and determination. Durga riding on a lion symbolises she possesses unlimited powers and uses it to protect virtue and destroy evil.
Trayambake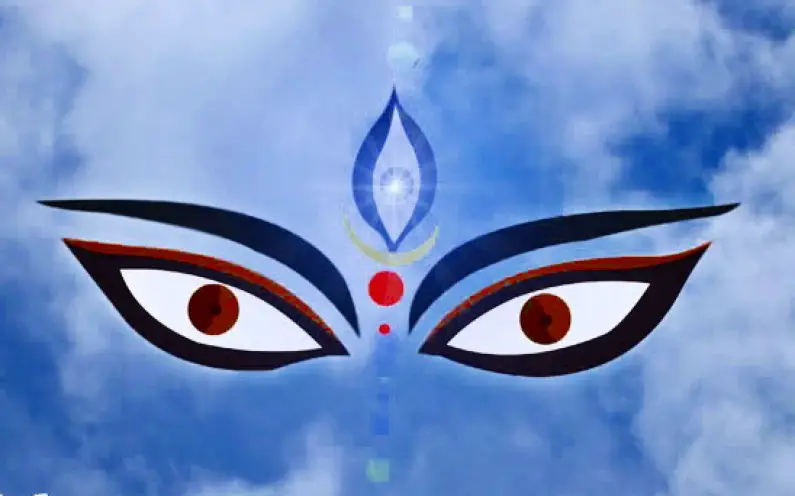 She is also known as Triyambake as she has 3 eyes. Her left eye represents Desire-Moon, right eye represents Action- Sun and her central eye represents Knowledge or Fire.
Protector
Maa Durga protects from all evils and negativity. Navratri is the most auspicious time to please Goddesses. During Navratri nine forms of Durga is worshipped for nine days to get her unlimited blessings. To please Goddess Durga several mantras are chanted throughout the year specially during Navratri. It is believed that chanting Durga mantra has power to transform our lives and give us more shakti.
Mantras
There are several mantras to please Goddess Durga but the most simple and easy is "OM SRI DURGAYA NAMAH'' It is believed that chanting this mantra regularly will remove physical, mental and worldly problems in life and will shower us with her unlimited blessing.
Devi mantras are also known as Siddhi mantra. Each and every mantra is full of energy and power. It is believed that when mantras are chanted with devotion it gives positive results . It helps to remove all the trouble and bless with success.
Most powerful Mantra
सर्वमङ्गलमाङ्गल्ये शिवे सर्वार्थसाधिके
शरण्ये त्र्यम्बके गौरि नारायणि नमोऽस्तु ते
Sarva Mangala Mangalye Sive Sarvartha Sadhike
Saranye Trayambike Gauri Narayani Namostute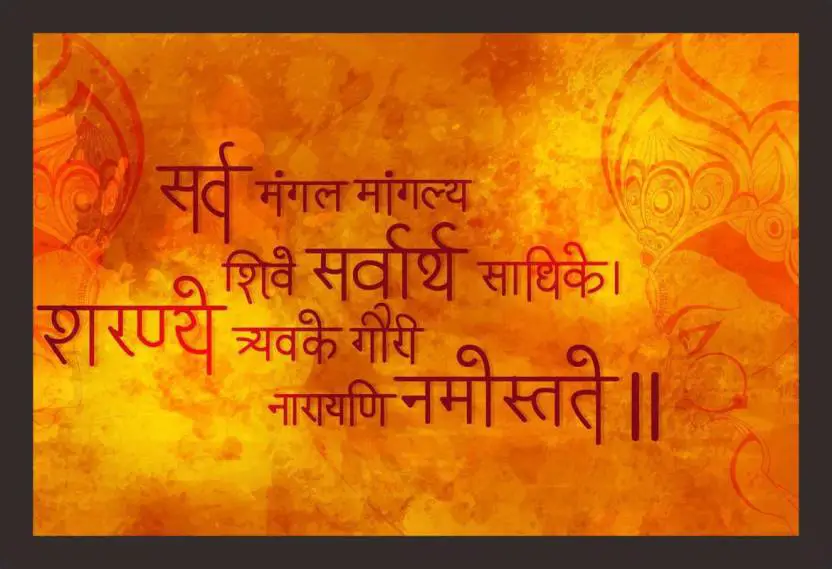 Meaning
We bow to you O Devi Narayani. You are the the auspicious for everyone, you bring happiness . You are the one who completes every work for everyone. You are protector of everyone. You are the one with 3 eyes and a beautiful face. We salute you, O Narayani.
She is the most auspicious one and the one who bestows auspiciousness upon all the worlds. She is pure and holy.
Maa protects those who surrender to her and is also called the three eyed one and Gauri (daughter of mountain king). I bow down to Mother Durga who is the sister of Mahavishnu.
Benefits of this Mantra
This mantra is recited almost during all celebrations, rituals and events. Regular chanting can give wisdom and strength combined with a prosperous life.
2. Devi Stuti
या देवी सर्वभुतेषु क्षान्तिरूपेण संस्थिता
नमस्तस्यै नमस्तस्यै नमस्तस्यै नमो नमः
या देवी सर्वभुतेषु मातृरूपेण संस्थिता
नमस्तस्यै नमस्तस्यै नमस्तस्यै नमो नमः
या देवी सर्वभुतेषु बुद्धिरूपेण संस्थिता
नमस्तस्यै नमस्तस्यै नमस्तस्यै नमो नमः
Ya devi sarva bhuteshu, shanti rupena sangsthita
Ya devi sarva bhuteshu, shakti rupena sangsthita
Ya devi sarva bhuteshu, matri rupena sangsthita
Yaa devi sarva bhuteshu, buddhi rupena sangsthita
Namastasyai, namastasyai, namastasyai, namo namaha

Meaning of above Mantra
The goddess who is omnipresent as the personification of universal mother
The goddess who is omnipresent as the embodiment of the power
The goddess who is omnipresent as the symbol of peace
Oh, Goddess (Devi) who resides everywhere in all living beings as intelligence and beauty
I bow to her, I bow to her, I bow to her again & again
Benefits
It helps to build inner power and allows the devotee to develop healthy, loving relationships. Chanting of this Mantra blocks negative thoughts and banish ignorance.

3.Maa Durga Dhyaan Mantra
ॐ जटा जूट समायुक्तमर्धेंन्दु कृत लक्षणाम |
लोचनत्रय संयुक्तां पद्मेन्दुसद्यशाननाम ||

Om jataa jut samaayuktamardhendu krit lakshnam|
Lochanyatra sanyuktam padmendu sadya shan naam ||

Benefits of Dhyaan mantra
This mantra is chanted before chanting any other Durga Mantras. It is important for all specially for children . As it helps in focus and maintaining one's concentration in all field.  

4. Maa durga Shatru Shanti Mantra
रिपव: संक्षयम् यान्ति कल्याणम चोपपद्यते |
नन्दते च कुलम पुंसाम माहात्म्यम मम श्रृणुयान्मम ||
Ripavah sankshayam yaanti kalyaanam chop padyate |
Nandate cha kulam punsaam maahaatmyam mam srinu yaanmam ||
Benefit of Shatru Shanti Mantra
This powerful mantra provide protection against all negativeness, enemies and adversaries. Regular chanting of mantra has power to destroy enemies. It also brings prosperity, bliss and peace in one's life.
5. Maa Durga Sarva Badha Mukti Mantra
सर्वाबाधाविनिर्मुक्तो धन धान्य सुतान्वित: |
मनुष्यो मत्प्रसादेन भविष्यती न संशय: ||
Sarvaa baadhaa vinirmukto dhan dhaanya sutaanvitah|
Manushyo matprasaaden bhavishyati na sanshayah||
Benefit of Sarva badha mukti mantra
This powerful mantras has power to remove all kind of obstacles problems and misery in one's life. It is also believed chanting this powerful mantra  rings wealth and prosperity.
6. Maa Durga Duh Swapna Nivaran Mantra
शान्तिकर्मणि सर्वत्र तथा दु:स्वप्नदर्शने |
ग्रहपीडासु चोग्रासु माहात्म्यं श्रृणुयान्मम ||
Shanti karmani sarvatra tatha duh swapna darshane|
Grah pidaasu chograsu maahaatmyam srinu yaanmam||
Benefit Of Duh Swapna Nivaran Mantra
It one suffers from nightmare, Chanting this powerful mantra helps  in getting relief from all kind of negative thought and fearful dreams. This mantra also has power to nullify the malefic effect of bad planetary movements.
7. Maa Durga Mantra for calming restless and fearful baby.
बालग्रहभिभूतानां बालानां शांतिकारकं
सङ्घातभेदे च नृणाम मैत्रीकरणमुतमम
In English:
Baal grah bhibhutaanaam baalaanam shantikaarkam
Sanghatbhede ch nrinaam maetri karan mutmam
Benefit of the Mantra
This powerful mantra helps to calm a restless and fearful child. Sometime child feels that unnatural and spectral being are troubling him thus he feels haunted. In such case parent can chant this mantra to eliminate all such negative energy that is disturbing the child.
8. Shakti Mantra
SHARNAAGAT DEENAART PARITRAAN PARAAYANEY, SERVASYARTI HAREY DEVI NAARAAYANI NAMOSTUTEY |
SARVASVAROOPEY SARVESHEY SARVSHAKTI SAMANVIETEY, BHAYEBHYAH TRAAHI NO DEVI DURGE DEVI NAMOSTUTEY |
ROGAAN SHOSHAAN PAHANSITUSHTARUSHTATU KAAMAAN SAKLAAN BHISHTAAN, TVAAM AASHRITAANAAM NA VIPANNARAANAM, TVAAMAASHRITAAHYA SHRAYTAAM PRAYAANTI |
SARVA BADHA PRASHMANAN TRAILOKYA SYAKHILESHWARI, EVAMEVMEV TVAYAA KAARYAM SMA DVERI VINAASHNAM |
SARVAA BAADHA VINIRUMK TO DHAN DHAANYA SUTAAN VITAH. MANUSHYO MAT PRASAADEN BHAVISHYATI NA SANSHA YAH |
DEHI SAUBHAAGYAM AAROGYAM DEHI DEVI PARAM SUKHAM.
RUPAM DEHI JAYAM DEHI YASHO DEHI DVISHO JAHI |
JYANTI MANGALAA KAALI BHADRA KAALI KAPAALINEE DURGAA KSHAMAA SHIVAA DHAATREE SWAAHAA SVADHAA NAMO STUTEY ||
In Sanskrit:
शरणागत दीनार्तपरित्राण परायणे। सर्वस्यातिहरे देवि नारायण नमोस्तुते।।
सर्वस्वरूपे सर्वेशे सर्वेशक्तिसमन्विते । भयेभ्यस्त्राहि नो देवि दुर्गे देवि नमोऽस्तु ते ।।
रोगनशेषानपहंसि तुष्टा। रुष्टा तु कामान् सकलानभीष्टान्।।
त्वामाश्रितानां न विपन्नराणां। त्वमाश्रिता हृयश्रयतां प्रयान्ति।।
सर्वाबाधा प्रशमनं त्रैलोक्यस्याखिलेश्वरि। एवमेव त्वया कार्यमस्मद्दैरिविनाशनम्।।
सर्वाबाधा विर्निर्मुक्तो धनधान्यसुतान्वित:। मनुष्यो मत्प्रसादेन भविष्यति न संशय:।।
जयन्ती मङ्गला काली भद्रकाली कपालिनी । दुर्गा शिवा क्षमा धात्री स्वाहा स्वधा नमोऽस्तु ते ।।
Meaning :
You who are perpetually endeavouring to protect the weak and the poor and remove their misery. Oh Narayani, I pray to you.
Oh Goddess Durga, please protect us from all kinds of fear. Oh omnipotent Durga, I pray to you.
Oh Goddess, when you are pleased, remove all ailments and when you are angry, destroy everything that a person desires for. However, those who come to you for sanctuary never have to confront any casastrophy. Instead, such people secure enough merit to provide shelter to others.
Whoever listens to the story of the Goddess during the great Puja that is organised in the winters succeeds in overcoming all obstacles and is blessed wealth and progeny.
Oh Goddess, bless me with good fortune, good health, good looks, success and fame. Oh Vaishnavi, you are the very basis for the world. You have mesmerized the World. When you are pleased with some one you ensure his salvation from the cycle of life and death.
Oh Goddess, you who are known by the names of Mangala, Kali, Bhadra Kali, Kapalinee, Durge, Kshama, Shivaa, Dhatri, Swahaa, Swadha, I pray to you.'
Benefits of the mantra
Maa Durga mantras are very powerful and have potential to help solve one's issue and relax one's  mind. Durga Maa protect her devotee from all evils and mishappening. The effectiveness of mantras depend on the mental discipline involvement and its correct recitation.