Kalighat Temple – A Sati Shakti Peeth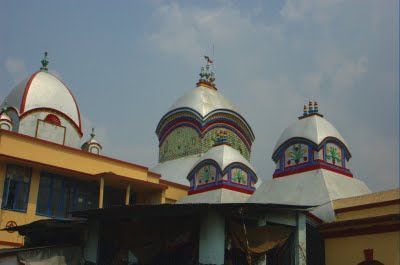 Kalighat, a Hindu temple and one from the 52 shakti peeths of India. This temple is dedicated to Goddess Kali. The temple is situated in kolkata on the bank of river Hoogly(bhagirathi).
Sati was daughter of king Daksha she married Lord Shiva against the wish of her father. Once King Dakha was having a yagna and he didn't invite Lord Shiva and Sati. When Sati went to her father's palace, he insulted Lord Shiva and Sati. Unable to bear this disrespect for her husband she killed herself, when Shiva came to know this he was enraged, he began to wonder holding the dead body of Sati in his arms and he started the dance of distruction of universe. Lord Vishnu in order to save the universe and to break this attachment of Lord Shiva cut off Sati's body into pieces with his sudarshan chakra. Sati's body fell at different places these places are called shakti peeth. It is believed that right toe of sati fell here. A devotee discovered a luminant ray of light coming from the Bhagirathi river bed, and upon investigating its source came upon a piece of stone carved in the form of a human toe. He also found a Svayambhu Lingam of Nakuleshwar Bhairav nearby, and started worshiping Kali in the midst of a thick jungle.
Kalighat is also associated with the worship offered to Kali by a Dasanami Monk by name Chowranga Giri, and the Chowringee area of Kolkata is said to have been named after him. Kalighat kali temple is always over crowded with devotees from all over the world.
The original temple was a small hut. In early sixteenth century a small temple was constructed by King Manasingha, present day temple was constructed in 1809.
The Idol of Kali in this temple is unique and different from other Kali idols of Bengal. The idol is made of black stone and decorated with silver and gold. It has three huge eyes and a long protruding tongue made of gold and four hands, in two hands she holds a sword and a severed head and other two hands are blessing positions.
The goddess is offered a ceremonial bath every year on the snan-yatra day, the rituals being performed by the head priest. Kali represents the destructive side of Siva's consort and demands daily sacrifices; therefore in the morning goats have their throats slit here to satisfy the goddess's blood lust.
It is believed that any one who worshipped here with true is heart is always saved by her.