In the Ramayana, two monkey brothers are mentioned with importance. In fact, a complete chapter is devoted with the name of Kishkindha kand on them. The interesting story of these two brothers is as following.
Birth of Sugriva and Bali 
Once Brahma threw smear from his eyes and a monkey Riksharaj appeared from the smear. He was instructed to wander in the forests and kill demons. Soon he got into a well and transformed into a beautiful lady.
When Lord Indra and Lord Surya saw the lady, they became attracted to her and thus Bali and Sugriva were born. These two brothers were very powerful and were asked to live in Kishkindha mountain by Lord Brahma.
Curse on Bali and Rishyamooka mountain
Soon, in course of time, Bali killed Dundubhi. Sage Matang had his hermitage at Rishiyamooka Mountain. When the stream of blood fell on his hermitage which resulted from killing of Dundabhi, he wondered about the reason. Suddenly a Yaksha came and revealed the secret behind the stream of blood. Indignant, sage Matang cursed Bali that he would die if he ever ventured on Rishiyamooka Mountain. That is the reason Bali could not visit Rishiyamooka mountain.
Boon on Bali
Brahma had given a boon to Bali which made him virtually impossible to defeat and kill. Whenever facing an enemy in a combat, Bali would get half of the strength of his opponent. He was killed when he was involved in a fight with his brother, Sugriva. (This episode is detailed in Kishkindha kand – The Ramayana)
Bali defeats Ravana
The might of Bali was such that he defeated and moved around while holding Ravana under his armpit. Ravana, the demon king of lanka and the main antagonist of the Ramayana, was a mighty ruler, but even he was helpless before Bali. So Ravana was weak before monkey (Bali) and Rama (human).
Bali's end
Once, Bali chased a demon Mayavi after killing his brother Dundabhi. Mayavi entered into a cave where Bali followed him. Bali too followed him into the cave. But before entering he cave, he instructed Sugriva to wait outside for a fortnight. He also said that if he did not come out of the cave after fifteen days, Sugriva would understand that Bali had been killed. After a month, He saw blood coming out of the cave and assumed that Bali was dead. Sugriva returned to the kingdom as  a king. But Bali was alive. When he came back and saw Sugriva running the kingdom of Pampapuri,
he became furious. He drove Sugriva out and enslaved his wife as well.  Sugriva was hiding in Rishiyamooka mountain, because of curse of Sage Matang, this place was safe.
Lord Rama assured Sugriva that he will help him here. He also cut the seven palm trees with one shot of his arrow convincing Sugriva of his strength. Rama also believed that Bali's crime was unpardonable as he has taken his brother's wife. He asked Sugriva to invite Bali for a duel. Bali beat him badly as Rama could not differentiate one from another as both brothers looked alike.
Rama asks Sugriva again to invite Bali for a duel and this time to wear a garland. During the battle, Rama kills Bali with an arrow passing through his heart.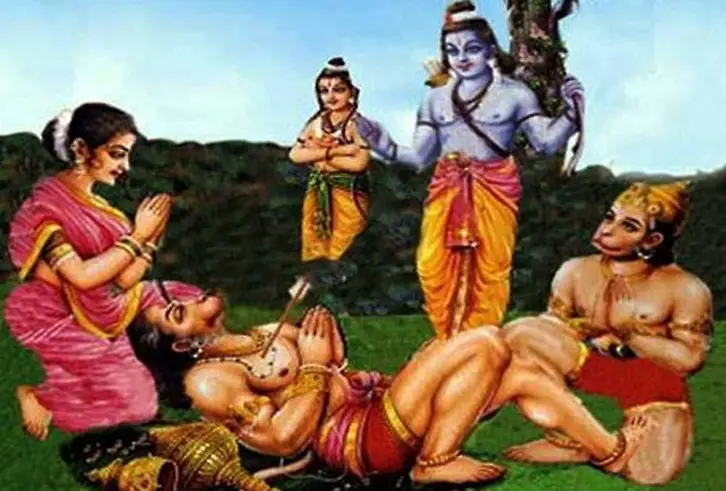 Post Bali' death
After the death of Bali, Sugriva became the ruler of Kishkindha. Bali's son Angad, given important duties in the war against Ravana. Sugriva married Tara. Initially Sugriva forgot his promise made to Rama, but Laxman came as a messenger and asked him for help. Tara, one of the panchkanyas, coaxed Sugriva to help Rama.