Sankat Mochan Temple
The Sankat Mochan mandir is situated in the holy city of Varanasi. The legend is that this temple was established by Tulsidas, the great poet, who wrote Ramcharitramanas.
This temple is dedicated to Lord Hanuman, whose other name is Sankar Mochak, which means reliever of troubles. As per the Vedic Astrology, Lord Hanuman defends and liberates human being from the wicked effects of 'Shani' (Planet Saturn). All those, who have ill-placed Saturn in their horoscope, should offer homage at this temple to get relief from the distress. In the earlier times, the temple was very small in its size. Later, the temple complex was extended attributable to the kind donations made by the devotees.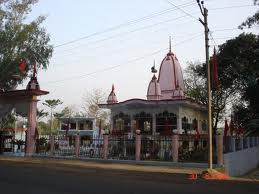 Every Tuesday and Saturday, thousands of devotees queue up in front of the Sankat Mochan temple to offer prayers to Lord Hanuman. According to Vedic Astrology, Hanuman protects human beings from the anger of planet Saturn and those who have ill placed Saturn in their horoscope visit the Sankat Mochan temple to get remedy. People put "Sindoor" on the statue and offer "laddoos" to Lord Hanuman. The "Sindoor" or Vermilion, from the statue of Lord Hanuman is put on the foreheads of devotees.
Festivals celebrated at Sankat Mochan Temple

On the day of  Kartik Krishna Chaturdashi, special prayers are made to the Lord Hanuman. An annual festival is also observed on the full moon night of the month of 'Chaitra', which is also known as Hanuman or Mahavir Jayanti. At this juncture, a procession is taken out in the streets of Varanasi. The festival too, attracts plenty of visitors to Sankat Mochan Temple.
Durga temple is very close to this temple and on the day of Mahavir Jayanti, a special procession which starts from the Sankat Mochan mandir ends at Durga mandir.
The current temple structure was built in early 1900s by the educationist and freedom fighter, Pandit Madan Mohan Malviya.