Shri Krishna's exploits and leelas have been written about a lot, but we still find novelty when he is discussed. This incarnation of Lord Vishnu is indeed the most popular one in today's times. Couple of his exploits are detailed below.
Narayani Sena and himself
Before Mahabharat war, Duryodhan reached first in Dwarka to seek Krishna's help. He came before Arjuna  to seek lord's help. However, when Duryodhana reached, Krishna was sleeping. So, Duryodhana and Arjuna, both entered Krishna's room while he was sleeping.  Duryodhan who entered the room,  sat besides the head of Krishna. Arjuna stood next to Krishna's feet with his hand folded. When he woke up, he saw Arjuna first though he came only after Duryodhana. Shri Krishna set forth a condition that he will not fight the war. Hearing this Duryodhana decided to take the Narayani sena, not knowing that Lord without a weapon was more than a handful for the planet.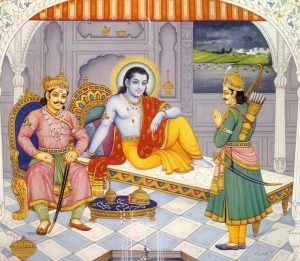 Jayadrath vadh
After the death of Abhimanyu, Arjuna was distraught and he vowed that he will kill Jayadratha or submit himself to fire. Jayadratha was the reason of Abhimanyu's death as he did not allow anyone else to enter the 'Chakravyuha'. Chakravyuha was a formation devised by Guru Drona. When Kauravas came to know about Arjuna's intentions, they focussed on the sole objective of protecting Jayadratha from Arjuna. For them, this was the golden chance of winning the war.
A good part of day was thus spent and Kaurava's succesfully defended Jayadratha. But Lord Krishna find something on that fateful day. He summoned Sudarshan Chakra. With the help of Chakra he hid the Sun. Seeing this, Kaurava's started rejoicing and Jayadratha came out.This was as good as a victory of Kauravas in the war. At this moment, Shri Krishna withdrew the Sudarshana chakra, Sun was visible again and on his instruction, Arjuna divided Jayadratha's body in head and torso.