Maa Baglamukhi is the creator, controller and destroyer of whole universe. She is Aadi Shakti. She is the energy which is the reason for the existence of this whole universe. Without energy no one can survive. She is the supreme power. She is the eighth mahavidya.
Story behind Maa Baglamukhi
Long long ago, a huge storm erupted over the universe. It threatened to destroy whole of the creation. Lord Vishnu called on the supreme power. Goddess Bagalamukhi emerged from the 'Haridra Sarovara' in the Saurashtra region (Kathiyawada), and the same time all direction brightened up with unique light of Shree Vidhya. That night was called Veer Ratri and sky was full of stars. That day was Tuesday and Chaturdashi. She had been served by Pannch Makkar's. She made her home in deep yellow turmeric, from that mid-night and appeased by the prayer of the God, calmed down the storm.
Story of Demon Madan
A demon named Madan undertook austerities and won the boon of vak siddhi, according to which anything he said became true. He abused this boon by harassing innocent people. Enraged by his mischief, the gods worshipped Bagalamukhi. She stopped the demon's rampage by taking hold of his tongue and stilling his speech. Before she could kill him, however, he asked to be worshipped with her, and she relented, That is why he is depicted with Goddess Bagalamukhi.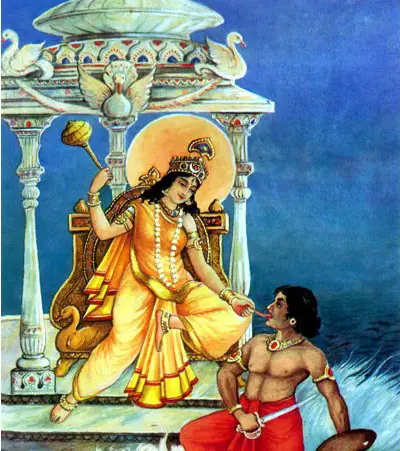 Baglamukhi Temple
The main temple dedicated to Goddess Bagalamukhi is in the Kamakhya Temple Complex in Guwahati, Assam. Dedication to her especially at the times of illness and disease, litigation, accidents, quarrels, enmity and other unforeseen times of trials and turbulences is known to have worked wonders.