Shravan festival in India
The month of Shrawan is a very holy month for hindu pilgrims. In this month, Lord Shiva is worshipped in Deoghar and people from all part of India throng at this place. They also undertook an arduous journey and offer water to Lord which they took from distant places and cover the distance on foot.
Kanwar Yatra is named after the Kanvar. Kanvar is a single pole  with two roughly equal loads fastened or dangling from opposite ends.  These loads are normally Ganges water which is offered to Lord Shiva after completion of Kanwar or Kanwad journey.
The month of Shravan is celebrated in worship to Lord Shiva and most devotees observe a fast on Mondays during this month. This festival is called Sharavn festival or Kanwar festival.
Kanwad festival
Ten days before Shiv-Teras thousands of Lord Shiva devotees gather in Haridwar to collect holy waters from the river Ganga to carry it back to their hometown and offer it at the local Shiv temple.
In north india, the Kanwarias take the water from Haridwar, Gangotri and other holy places. They take the water to their respective towns and offer the gangajaal to a local holy temple of Lord Shiva. This pilgrimage is done by covering the distance from Haridwar to their respective cities largely on foot. The devotees are mainly males, but females also celebrate this festival of Lord Shiva or Bhole Baba.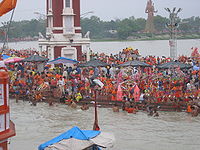 Smaller pilgrimages are also undertaken to places like Allahabad and Varanasi.
In Bihar, during this festival, the kanwarias take the holy water from Sultanganj. Sultanganj has a special significance since Ganga turns northward at Sultanganj. The water is carried from here to Deoghar, the nearest Shiv jyotirling. This is 105 km far from sultanganj. It takes four days for the devotees to reach Deoghar walking. The devotees generally walk by day and take shelter at dharamshalas during night, some adventurous ones continue their journey during night.  Then there are Dak Kanwariyas, who cover the distance by running only in a day. They are supposed to travel the distance in one day only is quite arduous.  After offering water in Deoghar, devotees travel to basukinath, which is another place of interest for pilgrims.