Yuddha Kand (3) from Ramayana
In this article, events pertaining to final war are described. Ravana sends spies to Rama's camp, and Rama makes his own strategies. He even devises that what would be the appearance of his army when fighting with Ravana's might.
Ravana sends Shardula to assess Rama's strength
The demon king, Ravana sent another spy to obtain information on Rama and his army. But Shardula was discovered by monkeys and after thoroughly beaten, he was taken to the court of Rama. He was eventually saved when Rama intervened. Shardula then advises Ravana to return Sita to Rama.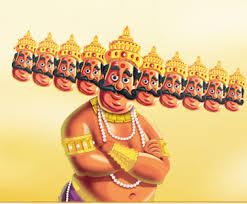 To this, Ravana becomes very angry and says that he will not return Sita, come what may be. He further details the strength of various warriors in Rama's side, including Hanuman, Angad, Neela, Sugreeva, Jambavant and others.
Sarama tells Sita of Ravana intentions
Sita asks Sarama to go secretly to Ravana and get to know what he is doing as well as report to her back about Ravana's decision about the matter of releasing her or continuing to keep her captive. Sarama secretly hears the conversation of Ravana with his ministers and reports to Sita that Ravana is not inclined to set her free. Sarama consoles Sita, saying that Rama with his sharp arrows will kill Ravana and take her back to Ayodhya.
Malyavan, the maternal grandfather of Ravana, advises for peace
Hearing that Rama's troops have reached lanka, the grandfather of Ravana, advises to return Sita to Ravana, but Ravana did not oblige. Malyavan indicates that Rama is not an ordinary human being, and he is surely going to defeat and kill Ravana, so this is the best course of action to return Sita. Ravana turns his deaf ear to the words of Malyavan and even abuses him that the latter exaggerating the strength of Rama. Ravana further says that he will not restore Seetha to Rama and that Rama and his army will not go back alive, having crossed the ocean and reached Lanka.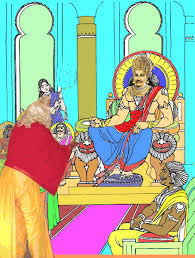 Ravana strategies for safety of Lanka
Ravana assigns Prahasta and others to guard the four main gates of Lanka against the inroads of the enemy. Vibheeshana provides this information to Rama and upon hearing Ravana's plans, Rama makes his own plan to counter Raavana's designs.
Rama plans to invade Lanka
Rama appoints commanders for performing various tasks once they decided to attack Lanka. Nila was asked to attack from the east. His task was to attack Prahasta. At the south, Vali's strong son Angad was entrusted to oppose Mahaparshva and Mahodara. Hanuman to enter from the western gate. Rama decided than he alongwith Laxman will lead the aggression from northern gate. In the centre, he appointed Jambavant and Vibheeshana to take care of the army.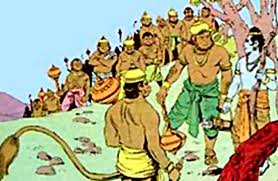 Rama's another masterstroke
At this point of time, Rama advises his army to never take human form. Rama, Laxmana and Vibheeshana and his four companions will only fight in human form. Monkeys were instructed to remain in monkey's form and it will serve as a sign of recognition. No demon will ever assume a form of monkey as it would be lowly for them to do so.
Rama and his commanders observe Lanka from Mount Suvela
Rama expresses his desire to Vibheeshana and Sugriva to halt on Suvela mountain for that night, and to envision the City of Lanka. Rama along with Laxman, Vibheeshana , Sugriva and his army ascend the mountain and witness the beauty of Lanka. They halt on that mountain-resort for the night.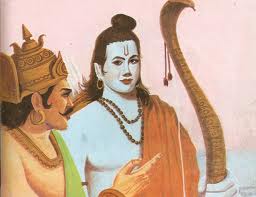 Sugriva fights Ravana
Just then, Sugriva notices Ravana and he jumps from the summit of the mountain and then sprang to the top of the gate (where Ravana was). He then fights with Ravana for a long time. After that he comes back and joins his troops. Rama reprimandsSugriva not to repeat such reckless acts in future on the ground of he being a king.