This is an interesting story involving Lord Hanumana, Lord Shani, Meghnaad and Ravana. This story explains why Lord Shani likes devotees of Lord Hanumana.
Birth of Meghnaad
When the birth of Meghnaad was approaching, Ravana instructed all the Navagrahas to stay in the 11th house of Meghnaad's horoscope. By doing this, he wanted to ensure that Meghnaad becomes invincible.  All planets stayed in the 11th house of Meghnaad's horoscope as per Ravana's instructions. But Lord Shanidev refused to comply with Ravana's orders even though the Asura king was immensely powerful. So he stretched his leg a little bit from Ravana's clutches towards his 12th House. Ravana's knew that this will cause Meghnaad's death, so he imprisoned him in a dark tiny cell so that nobody could see Shani's face again.
Ravana imprisons Shanidev
Ravana got angry with this and he imprisoned Lord Shani. Ravana worried about the malefic gaze of Shani and the effect it could have on his son's life. So he imprisoned him. But Shanidev cursed Ravana and said that Lanka would burn violently in the Treta Yuga. He also stated that Ravana's greed and malice would be the end of him.
Lord Hanumana comes to Lanka
When Lord Hanumana came in search of Devi Sita, he happened to burn Lanka as per the curse of Lord. When he was returning, he saw him in prison. Lord Hanumana freed him. Grateful, he says to Lord Hanumana – I cannot trouble you. Since you have saved me from Raavan's prison I would like to give you a boon.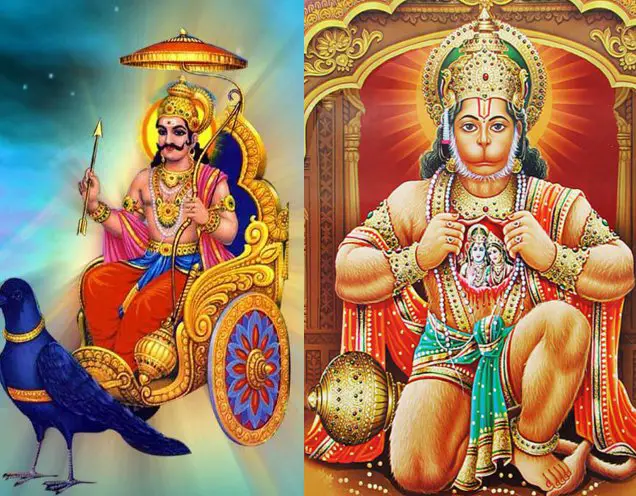 Lord Shani gives a boon to Lord Hanumana
For the boon, Hanumana asked him not to trouble or cast evil eye on his devotees. Lord Shani promised not to trouble or cause hardships to Hanuman devotees. When he was freed, he asked Hanuman – "Could you give me some oil to relieve my this wretched pain?" Then Hanuman gave him some mustard oil to Lord, after the massage of that oil on his body, his pain was relieved immediately. Since then it has been customary to offer some mustard oil in the name of Lord. It is symbolic to sooth his pain. He feels satisfied and this makes him benevolent towards the devotee of Ram. That is why who worship Hanuman on Saturday are not affected by Shani's Dosh.