Stories related to Danveer Karna  from Mahabharata
Karna is known for his helping nature and he never turned anyone back when someone asked for anything from him. Following are the incidents which reflect upon this virtue of him and fittingly, he is also known as Danveer Karna.
Kavach and Kundal
He was born with Kavach and Kundal and thus was impregnable. There was no way he could be parted with these things. Before the war of Mahabharata, Indra thought of a way to do that. Indra was the father of Arjuna. He knew that eventually, there would be a battle between Arjuna and Karna. He could not be defeated with Kavach and Kundal on. So Indra disguised himself as a Brahmin and asked for Kavach and Kundal as alms. Though he was forwarned by Surya. Still, he happily gave away the things which was asked of him. In return, Indra gave him the "ekaghni", which has the power to kill anyone.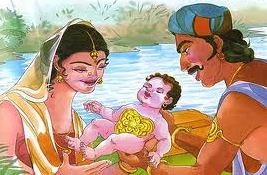 He eventually had to use this weapon on Ghatotkacha. Ghatotkahca, the son of Bhima, was proving too much for Kauravas. Shri Krishna summoned him to fight the Mahabharata war. Thus, we can see that Arjuna's safety was ensured by Indra and Shri Krishna while the eldest son of Kunti was fighting this all alone. In way, this virtue of Danveer proved to be his undoing.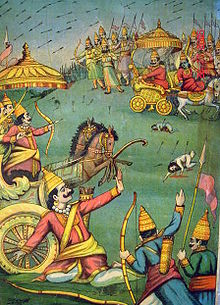 Teeth of gold
While he was dying, Lord Indra and Lord Surya had a fight that whether he was the real Danveer at all. They went to him and asked for alms. Karna said that I am dying and do not have anything to give this to you. Indra and Surya have mentioned that he has teeth of gold. Hearing this, he promptly took out the gold and given to the Brahmins.
Gift of Sons
Perhaps this will not be realized in first hand, but Kunti was given four sons as a Dan by Danveer Karna. Karna promised Kunti that she will have five sons, as after the mahabharat war, either him or Arjuna will be alive. This promise was observed by him as he had a chance to kill four pandavas but he let them go.  He was indeed a real Danveer!!!