Mahabharata – Important weapons from Indian Mythology
Karna's weapons
Karna had the knowledge of Brahmastra, but his teacher Parshurama has cursed him that he could not use it when he requires it most. He had kavach and kundal from Sun, which would made him invulnerable, but Indra asked those in alms.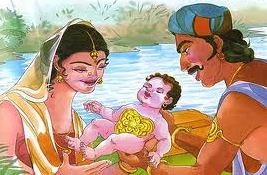 But he had given him Vasavi Shakti or Amoghastra, which could be used only once, to him. Karna saved that for Arjuna,  but upon the insistence of Duryodhana, he had to use this on Ghatotkacha. Ghatotkacha was Bheema's son, who was single handedly decimating the kaurava's army. He was called by Shri Krishna to fight from his father's side. Another master stroke from the seventh avatar of lord Vishnu.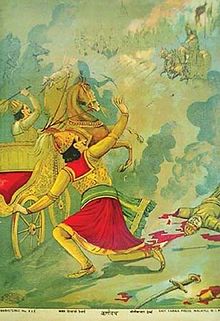 Arjuna's weapons
Arjuna seems to have the blessings of gods when it came to astras and shastras. You name the weapon and he had it. He has done severe penance to obtain divyastras for the battle of Mahabharat. Shiva has bestowed his blessings on Arjuna that his quivers will be inexhaustible. Shiva has also given him the Pashupata, which had the powers to destroy anything. Arjuna also had Yamaraj's mace, Naagpashas from varuna and Antardhana from Kuber at his disposal. Indra also presented him a weapon before Mahabharat war.  Gandiva was also given to him Lord Shiva. These gods have armed Arjuna to fight the evil forces. Arjuna and Shri Krishna are also known  as Nara(Arjuna) and Narayana (Shri Krishna).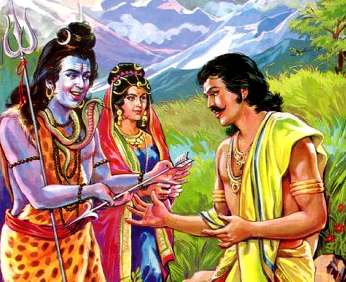 Shri Krishna's weapons
Shri Krishna's bow was Sharngadhanu, with which he has once countered Shiva's weapons. He also used Brahmastra to counter a Brahmastra invoked by Shiva. Shri Krishna also had Narayanastra with which he has counterd pashupatastra. When fighting Banasura and Lord Shiva, Shri Krishna used his weapon Narayanjvara to counter Shivajara. No discussion is complete on weapons of Shri Krishna, if we do not mention the Sudarshan Chakra. He used this in the war of Mahabharat for a different purpose – to make sun disappear. This led to killing of Jayadrath.
Another notable use of this Sudarshan Chakra was in killing of Shishupala, the king of Chedi, who was also a relative of Shri Krishna.