Gudhi Padwa
This day is also the first day of Chaitra Navratri and Ghatasthapana also known as Kalash Sthapana is done on this day. Being the first day of the first month of a year, Gudhi Padwa  festival is the New Year's Day for Marathi people.
On this day, a gudhi is prominently displayed in traditional Maharashtrian households. A gudhi is  yellow cloth adorned with brocade tied to the tip of a long bamboo over which sugar crystals, neem leaves,  mango leaves and a garland of red flowers is tied. A silver or copper pot is placed in the inverted position over it.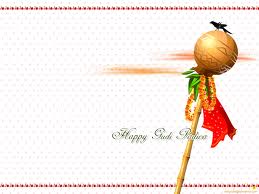 The festival is celebrated with an auspicious bath, followed by decorating the doorway with a 'toran', performing ritualistic worship and hoisting the Gudhi. On this day, people finish their ablutions, wear new clothes and decorate their houses with colorful "rangoli" patterns.
This day, a special preparation is eaten. The eating of a specific mixture called Bevu-Bella (Neem and Jaggery) in Kannada, symbolizes the fact that life is a mixture of good and bad, Happiness and Sorrow. Eating Neem and Sweet Jaggery means one need to take both Good and Bad or Happiness and Sorrow should be accepted together and with equanimity through the New Year. The special mixture consists of:
1. Neem Buds/Flowers for its bitterness, signifying Sadness
2. Jaggery which is sweet, signifying Happiness
Legends of the festival Gudi Padwa
This festival is celebrated to commemorate the day when Lord Rama killed King Vali. According to another such belief this day marks the beginning of Satyuga (the age of truth and justice). A popular belief is that it was on this day that Rama returned to Ayodhya. This festival is thus the celebration of victory and prosperity.