Shri Krishna janmabhoomi temple
The city of Mathura contains the famous Shri Krishna Janmabhoomi temple.  This temple is the birthplace of  Lord Krishna, who is believed to be the eighth incarnation of Lord Vishnu.  This temple is actually  a prison cell belonging to Kansa, who was the uncle of Krishna and King of Mathura.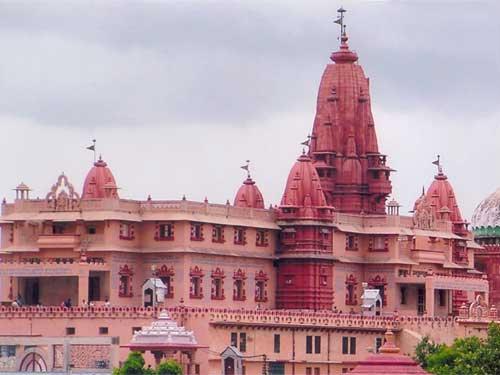 Janmbhoomi Temple that is currently managed by the followers of the Vallabhacharya sect is the most visited temple in Mathura. Located in the eastern part of Mathura, not far from the Yamuna River, the temple is architecturally very interesting.
According to historians, the prison cell, popularly known as 'Garbha Griha', in the temple premise is the exact place where lord Krishna was born. The stone walled cell is reminiscent of the cruelty of King Kansa. Many statues and sculptures of the bygone era were found on excavating the site. During the excavation work various things were recovered that confirm this story. The articles that were recovered include utensils, some old figurines, and a rock platform that were commonly seen in the prisons of that period. These articles are displayed in a museum. Krishna Janmabhoomi Temple shares a common wall with a mosque, due to which there is heavy security in the temple. The present temple was built in the 20th century. A stone slab is present in the temple that symbolizes the original site where Lord Krishna was born.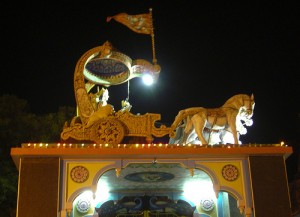 The city of Mathura
Being the birth place of Lord Krishna, Mathura is one of the most sacred destinations of India. As the legend goes, Mathura was founded in the Treta era by Shatrughna, the younger brother of Lord Rama and later was under the royalty of King Kamsa, the maternal uncle of Lord Krishna.
Shatrughna killed the demon Lavanasura who has tormented everyone.  Lavanasura was the son of Madhu, the pious demon-king after whom the city of Mathura was named.  Madhu's wife and Lavanusara's mother was Kumbhini, a sister of Ravan. Lavanasura was the holder of the divine Trishula (Trident) of Lord Shiva, and nobody was able to kill him or prevent him from committing sinful activities.
According to Hindu mythology, Kamsa heard a divine prophecy saying that he would be killed by his sister Devki's eighth son Krishna. Hence, he imprisoned Devki and her husband Vasudeva and kept on killing their children one after another. But when Lord Krishna was born, miraculously all guards went to sleep, prison gates opened and Vasudeva carried his son to Gokul crossing the wild river Yamuna in the mid night. The divine prophecy came true and Krishna killed tyrant Kamsa and ruled Mathura for a long time. Vrindavan is the place where Lord Krishna spent his childhood leaving a number of myths and legends of love and friendship behind.
Reading suggestion: Shri Krishna's birth and Janmashtmi festival.