Parshurama Avatar ( Dashavatara of Lord Vishnu)
Parshurama is the sixth incarnation (one of the dashavatara) of Lord Vsihnu. He is said to be one of the chiranjeevis. Chiranjeevi means one who doesn't die.
Birth
Parshurama is born to Sage Jamdagni and Renuka. Parshurama was very obedient to his father, and once when asked by his father, he did not hesitate and beheaded his own mother. Jamdagni and Renuka meditated before the birth of Parshurama and with the blessing of Shiva, Vishnu agreed to take incarnation as their son which became sixth of the ten dashavataras. He was the fifth son of his parents.
Childhood
In his childhood, he did severe penance and pleased Lord Shiva. Lord presented him with the weapon parshu, thus the boy was called as Parshurama.
Killing of king Kartavirya
At that point of time, a king named Kartavirya Arjuna became very strong. He also defeated Ravana. One day, he came to the hermitage of sage Jamdagni and was welcomed by the sage. Jamdagni had a cow, Kamdhenu, presented by Indra, which allowed him to serve his guests. Impressed, kartavirya wanted the cow, which Jamdagni denied. The king stole the calf.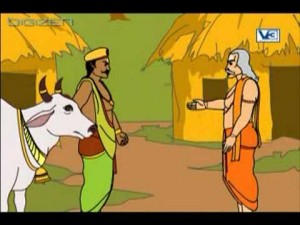 Parshurama was not at home at this point of time. When he returned back, he went to the palace of King Kartavirya and killed him. Then he retrieved Kamdhenu and came back to his home.
Killing of Sage Jamdagni
Soon, sons of Kartavirya discovered their father at the palace and knew that only Parashurama could have killed him. In revenge, they traveled to the hermitage and murdered Jamadagni, surrounding the rishi and shooting him to death with arrows like a stag. Afterwards, they decapitated his body and took his head with them.
Parshurama's vow
When Parshurama discovered his mother weeping over the body of his father, he vowed to avenge the death of his father. He hunted down the sons of Kartavirya at the palace. He killed them all and returned with the head of his father to conduct the cremation. Parashurama then vowed to enact a genocide on the war-mongering Kshatriyas twenty-one times over.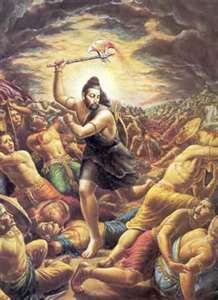 Parshurama is also the guru or teacher of Bhishma, Drona and Karna. Parshurama's famous curse is on Karna which rendered the Brahmastra useless for Karna.
Parshurama and Rama ( dashavatara's of Lord Vishnu)
During Sita swayamvar, Rama broke the bow of Lord Shiva. Hearing the sound of breaking of the bow, Parshurama came there and challenged Rama to string the bow with an arrow. Rama, being an avatar of Lord Vishnu, easily mounted the arrow and asked Parshurama, where should I fire this arrow now? Parshurama realized that Rama was an incarnation of Lord Vishnu, and his own role has completed now.