Parshuram Jayanti festival and Akshay Tritiya
Parshuram, the sixth incarnation of Vishnu is the epitome of valour and devotion  towards parents. Once his father, Jamadagni got angry with his wife Renuka and ordered Parshuram to murder her. Parshuram obeyed him and killed his mother. Contented with his act Jamadagni asked his son to ask for anything whatever he wanted. Parshuram asked to bring back his mother to life. It was Parshuram's cleverness that brought back his mother to life again. In this way Parshuram proved his devotion to his father and mother.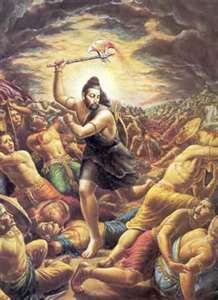 The birthday of Parshuram is celebrated on the 3rd day of Shukla Paksh of Vaishakh month. Fast is kept on this day to be blessed with son and is also called Parshu Rama Dwadashi. According to Varah Puran by keeping a fast on this day the devotee enjoys his stay in Brahmiok and will be reborn to become a great king.
Akshay Tritiya
This auspicious day is also celebrated as Akshay tritiya and is more popular. On this Akshaya Tritiya day the Sun, Moon and Venus are in their signs of exaltation and it is very auspicious. According to some scriptures, on this day and with these astrological combinations the ancient Rishis performed the first yagya in the history of mankind and it marked the start of a time regarded as the Golden Age of Indian culture.
Akshaya means eternal or that which never ends. Any good undertaking started on this day will be of a lasting and permanent nature. All over India people celebrate weddings, plan new business ventures, long journeys and other events on this day and buy gold, silver and other assets. Any Pooja performed and any dana (donating) given on this day is said to give 100 times more results.
Legends associated with Lord Parshuram
According to one legend Parashurama also went to visit Shiva but the way was blocked by Ganesha. Parashurama threw the axe at him and Ganesha, knowing it had been given by Shiva, allowed to cut off one of his [[tusk]s. The goddess Parvati (wife of Shiva) on finding her sons tusk being cut filled with rage and declared that if Parashuramas thirst for Kshatriyas blood was still not over she would put a stop to it and teach him a final lesson; she will severe both of his arms and kill him.
The Goddess Parvati then takes a form of Shakti (Goddess Durga) and becomes the ultimate source of Power and no other divine power can resist or match to her Supreme power. Luckily, Shiva arrived at the scene and pacified Parvati after convincing not to harm Parashurama as he is also like her son in a way and she should forgive him as a Mother on her childs mistake. Parashurama also asks for her forgiveness. Parvati finally forgives Parashurama at the request of Ganesha. Parashurama then gifts his divine axe weapon to Ganesha and blesses him.
There is another interesting legend with regards to Parashuramas beating back the seas. It is said that he fired an arrow from his mythical bow that landed in Goa, at a place called Benaulim(Konkani:Banavali or बाणावाली) creating what is known locally as Salkache Tollem, literally meaning lotus Lake.