Orange Festival across the world
This is a festival of fun and frolic is celebrated in Europe and United states among other places. Such as Netherlands, Dunedin and Tamenglong. In North america, this is known as Orange Blossom festival and celebrated in the month of April. These can be compared to the Indian festival Holi.
France – Citrusov
The most beautiful is probably the one which French celebrate. Beautiful, eye catching sculptures are created using Oranges. Even Taj mahal was created from Oranges. This festival Citrusov is held in south of France, where this is celebrated. They grow citrus here in this part of the country. French are very creative with the sculptures and the pictures show this. This is contrary of the popularity that the citrus festival is celebrated by Dutch.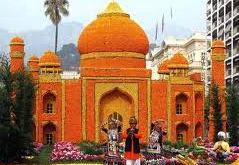 There is no Orange festival celebrated by Dutch. Rather, they celebrate Queens day, 30 April. This is a good reason for many people to bring out their orange outfits, and it is very much an outdoor event.
Italy
In Italy in the city of Ivrea, battle of oranges is celebrated when people throw oranges on each other. The core celebration is based on a locally famous Battle of the Oranges that involves some thousands of towns people, divided into nine combat teams, who throw oranges at each other – with considerable violence – during the traditional carnival days. These are Sunday, Monday and Tuesday. The legend is that it commemorates the city's defiance against the city's tyrant.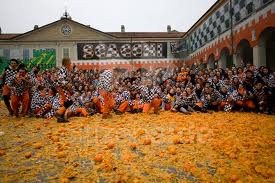 Orange Warsaw Festival is a Polish annual music festival.
 United States
Various places observe this festival in United States. e.g. in Dunedin.
The National Orange Show Festival is an annual festival held in San Bernardino County, California for hundred years. A fun event for most San Bernardino residents, there remains a legend regarding the opening of the show — it always marks rain for the usually dry Southern California residents.