First major festival of the year
14th January is very auspicious from Hindu religion point of view. On this day, sun transits into capricorn(makar) rashi. Makar Sankranti thus means – transition to capricorn. On this day, new things are started and believed that new endeavours will be successful. This day is one of the harvest days for indians.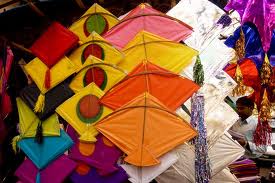 Almost all of India celebrate this festival with different culture and different names. Khichdi,  Uttarayan, Magh Bihu and Maghi are few of them. In neighbouring countries, this is celebrated as Magho or Maghe Sankranti (Nepal),  Songkarn (Thailand),  Thingyan (Myanmar) and Moha Sangkarn (cambodia).
Historical and cultural importance of this festival
This day is important for the following reasons:
1. Surya visits his son Shani, on Sankranti day. Though father and son do not go along well, but still, father visits his son's house.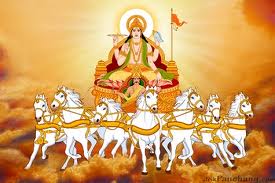 2. Bhagirath liberated his ancestors from curse after bringing Ganga on this day. Big celebrations are made on this day as Ganga sagar mela in west bengal. Sage Kapil ashram attracts lot of visitors on this auspicious day.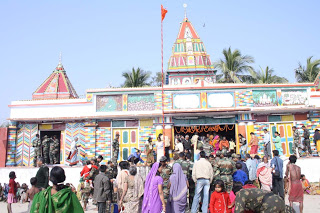 3. Bhishma left this earth on this day. He had the boon of iccha mrityu and he chose this auspicious day to depart from earth.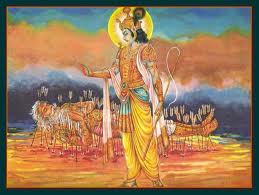 4. Lord Vishnu buried the asuras under Mandara parvata on this day.
Celebrations of this festival
Bihar
This day is celebrated as sankranti or Sakrat. People start doing new things from this day as this is believed to be auspicious day. People take bath in rivers and ponds and feast upon seasonal delicacies as a celebration of good harvest. The delicacies include Chura dahi, Gur(jaggery), various sweets made of til (Sesame seeds) such as Tilkut, Tilwa, Maska, etc., curd, milk and seasonal vegetables. Khichdi is consumed in the night. Rajgir is a holy place where devotees bath in brahma kund.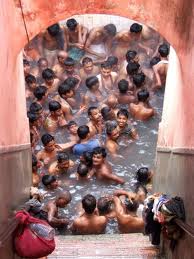 Uttar Pradesh
In hindu calendar, this is the first of the big bathing days. Over two million people gather at their respective sacred places for this holy bathing such as Allahabad,Haridwar(now in Uttarakhand) and Varanasi. Kites are flown on this day.
Punjab
In punjab, with Makar Sankranti, the advent of the new year is celebrated by lighting a bonfire. This festival is "maghi". The bonfire signifies the burning away of all evils for a bright and auspicious new year.  Lohri is the harvest festival celebrated on 13th January, is an important festival of Punjab.
Gujarat
This festival is celebrated as Uttarayan. Kite flying is a major activity of this day. The delicacies undhiyu and chikkis are consumed all through december and january.
Andhra Pradesh
This is celebrated across four days, Bhogi, Pedda Panduga ("the big festival"),  Kanuma and Mukkanuma. People discard old things on the day of Bhogi.
Next day is Makara Sankrant, also called "Pedda Panduga" (పెద్ద పండుగ). Everyone wears new clothes on this day, prays to God, and make offerings of traditional food to ancestors.
Rajasthan
This is a major festival of Rajasthan. Makar Sakrat is celebrated with delicacies such as Ghevar, til paati, ghajak and kheer.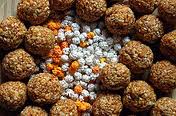 Tamilnadu
it is celebrated across four days.  The second day, Thai pongal is the most important.
Bhogi Pandigai (Bhogi)
 Thai Pongal
 Maattu Pongal
 Kaanum Pongal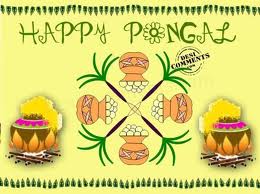 Thai pongal is the first day of tamil month Thai.  It is celebrated by boiling rice with fresh milk and jaggery in new pots, which are later topped with brown sugar, cashew nuts and raisins early in the morning and allowing it to boil over the vessel. This tradition gives Pongal its name. The moment the rice boils over and bubbles out of the vessel, the tradition is to shout of "Ponggalo Ponggal!" and blowing the sangu (a conch), a custom practiced during the festival to announce it was going to be a year blessed with good tidings.
In Assam, it is celebrated as Bhogali Bihu. In Goa, women celebrate haldi-kumkum. In Himachal Pradesh, this festival is called Magha Saaja i.e. onset of  month magha (by Hindi calendar). People enjoy khichdi with chaas. In Karnataka, this is suggi. The ritual of Ellu Birodhu is observed here. Kite flying is also a major activity. In Uttarakhand, this festival is celebrated as Ghughuti and welcomes the migratory birds back from the plains.