Hanuman Jayanti is an important festival for Hindus. This festival celebrated on the full moon day (poornima) of the Hindu lunar month of Chaitra.
On this day, in a temple, spiritual discourses are started at dawn.  Lord Hanuman was born at sunrise.  At that time the spiritual discourse is stopped and the offering of food (Prasad) is distributed to all bhakts. At some parts in India, this festival is celebrated in the month of December.
Story of birth of Lord Hanumana
As per belief, Hanuman was born to Anjana and father Kesari. He is also known as the the son of the deity Vayu (Wind god) because of his association with Vayu's role in Hanuman's birth.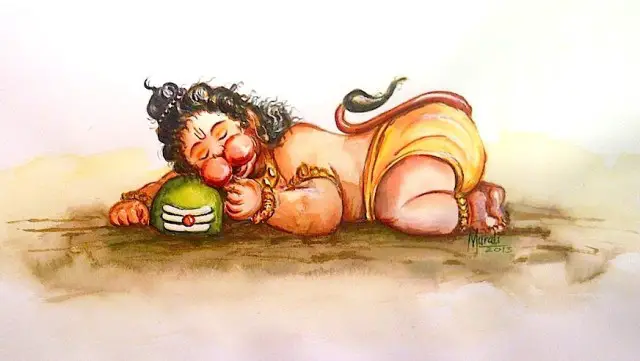 When Anjana was worshiping Shiva, the King Dasharatha of Ayodhya was also performing the ritual of Putrakama yagna in order to have children.
As a result, he received some sacred pudding (payasam) to be shared by his three wives, leading to the births of Rama, Lakshmana, Bharata, and Shatrughna.
By coincidence, a bird snatched a fragment of that pudding and dropped it while flying over the forest where Anjana was engaged in worship. Vayu, the Hindu deity of the wind, delivered the falling pudding to the outstretched hands of Anjana, who consumed it. Hanuman was born to her as a result. So Lord Hanuman and Lord Rama are brothers.
Lord Hanumana's childhood
Once when Hanumanji was young, Surya deva (Sun deity) imbued him with knowledge of countless weapons and mantras. However, his hyperactive nature induced him to think of swallowing the `red, ripened fruit' – the Sun ! Young Hanuman tried to take a leap. Everyone got panicked as unthinkable was going to happen.
How Hanumana attained powers?
Lord Indra tried to stop him and used his Vajra to hit him. It hit Hanuman on his jaw, and he fell to the earth as dead with a broken jaw. His father, Vayu became angry and withdrew.
The lack of air created immense suffering to all living beings. This led lord Shiva, to intervene and resuscitate Hanuman, which in turn prompted Vayu to return to the living beings. Lord Indra grants a wish that his body would be as strong as Vajra, where as his Vajra can also not harm him.
Agni (Lord of fire) granted Hanuman a wish that fire won't harm him, God Varuna granted a wish for Hanuman that water won't harm him, God Vayu granted a wish for Hanuman that he will be as fast as wind and the wind won't harm him.
Lord Brahma has also granted Hanuman a wish that he can move at any place where he cannot be stopped at anywhere.
From Brahma he obtained the power of inducing fear in enemies, of destroying fear in friends, to be able to change his form at will and to be able to easily travel wherever he wished.
Lord Vishnu also grants Hanuman a weapon which is named as "Gada". Hence these wishes make Hanuman a immortal, who has unique powers and strong
From Mahadevji he obtained the boons of longevity, scriptural wisdom and ability to cross the ocean.
Lord Hanumana's devotion to Lord Rama
Lord Hanuman is known for its great strength, wisdom, power and his immortal devotion towards Lord Rama. He is considered to be a greatest follower of Lord Rama and played a crucial role in his life. He is also known as Sankat Mochan who people remember in both good and bad times. He is considered to be as one of the most powerful Hindu gods in India. According to Hindu mythology, as the son of 'Pawan', the God of Winds and 'Anjanee' often referred to as 'Pawanputra,' is blessed with immense physical and mental strength that is greatly inspiring.
When Ravan's son Indrajit used his miraculous weapons, rendering Lakshman unconscious, Hanumanji's supreme devotion as the ideal devotee manifested. Advised by the Ayurvedic physician Sushena, to fetch the four types of herbs on mount Dronachal to revive Lakshman, Hanumanji flew there. Not recognizing the herbs, he returned with the whole mountain! This miraculous power arose from his unalloyed devotion to Shri Ram and his brahmacharya.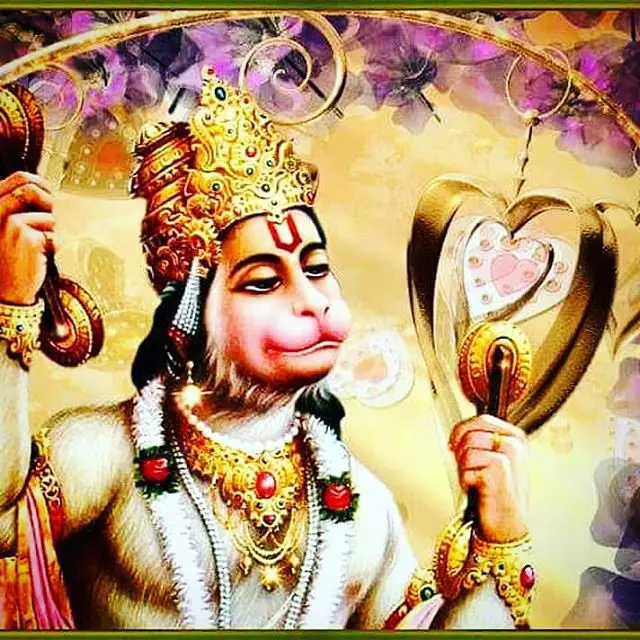 Hanuman Jayanti is an occasion to remember his unbridled devotion to Lord Rama and his feats of daring. In their quest to fight against demon king Ravana, Lord Hanuman led a monkey army and built a bridge to Lanka.