Lord Vishnu – The Murari
Lord Vishnu is also known as Murari. There is an interesting story behind this because as usual, he came to the rescue of Devtas when they were deeply troubled by someone. Lets read this article to find out why he is called Murari.
Sage Kashyap had an ambitious son
Many years ago, sage Kashyap had a son named Mura. He discovered that demon generally tended to be beaten by Gods. He therefore decided to perform difficult tapasya so that he might become strong. For several years he prayed to Lord Brahma. Finally, Brahma was pleased with his tapasya and granted him a boon. Mura wished that a person in battlefield should immediately die if he touches him with his hand irrespective of him being immortal.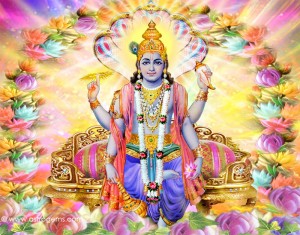 He observed penance for a boon
With this amazing boon Mura became invincible. Once Mura attacked heaven and challenged Indra. Indra has no desire to fight with a person who has amazing powers. But Mura told him to fight or run away from heaven. Indra accordingly left the heaven.
He invades Yama's empire
Mura invaded Yama's city. Yama knew that the demon was invincible and he had no desire to be killed. He therefore climbed on to his buffalo and fled to Vishnu.Vishnu told Yama to send Mura to him.  Yama told Mura that vishnu is waiting for him on the shores of ocean known as Kshiroda. Mura went there.
Lord Vishnu advises Yama to send the demon to him
Vishnu asked what do you want Mura. He replied I wish to have fight with you. Vishnu replied if you want to fight with me why is your heart trembling so much. I can't fight with a person whose heart trembles so much. Are you frightened ?
The demon is tricked by Lord Vishnu
Mura placed his hand on his chest to check if Vishnu's word were indeed true. And thanks to Brahma's boon, he fell down and died immediately. Vishnu chopped up the dead body with his chakra.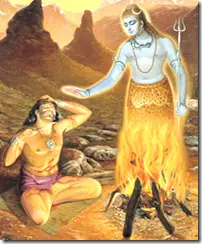 The word Ari means enemy and because Vishnu was Mura enemy , he was also known as MURARI.