Kedarnath temple
One of the holiest Hindu temples dedicated to the Lord Shiva and is located on the near Mandakini river. Here, Shiva lingam is pyramid shaped and hence is unique among Shiva temples. Pandavas are believed to have built this temple.
Due to harsh weather conditions, the temple is open only between the end of April (Akshay tritya) to Kartik Purnima (the autumn full moon, usually November) every year. During winters, the vigrahas (deities) from Kedarnath temple are brought to Ukhimath and worshipped there for six months.
Kedarnath is located on a ridge which juts out at right angles from below the 23000 feet high snowy peak of Mahapanth. Kedarnath is located on the Rudra Himalaya range. The Rudra Himalaya range is also known as the Pancha Parvata; its five peaks are Rudra Himalaya, Vishnupuri, Bhramapuri, Udgari-Kanth and Swargarohini. It is believed that four of the Pandavas died on the last of these peaks.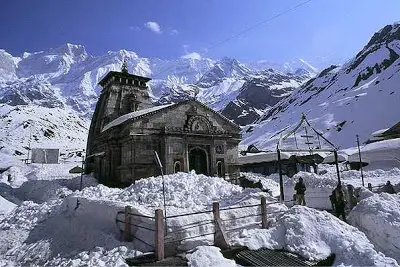 Legend behind Kedarnath Jyotirlinga
Two incarnations of Lord Vishnu by the names of Nara and Vishnu did penance at Badrikasharama. Both of them used to worship the idol of Shiva daily. Lord Shiva used to arrive in his subtle form and accept their offerings without being noticed by them.
One day Lord Shiva appeared before them. Nara and Narayana eulogized him and requested to remain at that place forever. Lord Shiva accepted their request and established himself as 'Kedareshwar jyotirlinga'.
There is another legend related to Pandavas. After the culmination of Mahabharata war, Pandavas wanted to be absolved of their sins which was due to killing of their own relatives in the war of Mahabharata.
Giving up all their belongings and ties, the Pandavas and Draupadi , accompanied by a dog, made their final journey of pilgrimage to the Himalayas in search of Lord Shiva .
Meanwhile at Kedarnath a very healthy and good looking bull joined them.  Shiva has taken the form of the bull, as he was unhappy with the Pandavas for their deceit during the war, and hence loathe to give them darshan.
The Pandavas sort of had the gut feeling that the buffalo was Shiva in disguise.  Bhima as usual jumped the gun and tried to catch the buffalo by its tail.  Lord Shiva just disappeared into the ground.
Then Bhima went after the buffalo with his mace. The buffalo was clever and Bheema could not catch it. But Bheema managed to hit the buffalo with his mace. The buffalo had its face hidden in a crevice-in the earth. Bheema started to pull it by its tail. In this tug-of war, the face of the buffalo went straight to Nepal, leaving its hind part in Kedar, a  hump above the ground as a Lingam,  and a blazing fiery column of light sprouted. This is why only the Kedarnath Shiva Lingam is a sort of a  hump.
The face of the buffalo is Doleshwar Mahadev located in Sipatol, Bhaktapur, Nepal.

It is also believed that Arjuna, one of the Pandavas worshipped Lord Shiva to attain the divine weapon, Pashupatastra.
Some important and famous places close to Kedarnath mandir
Badrinath – Badrinath which is near the Kedarnath is also a significant pilgrimage spot for the devotees of Lord shiva. The Neelkant peak behind the Badrinath temple is an abode of Lord shiva – like how the Mount Kailash is. It is called Indra Neel Parvat.
Gaurikund – Base for a trek to Kedarnath & serves as a roadhead, the village has hot springs & a temple dedicated to Gauri.
Gandhi Sarovar – A small lake from where Yudhishthir, the eldest of the Pandavas, is said to have departed to heaven. A km trek from Kedarnath, floating ice on the crystal clear waters.
Vasuki Tal – 6 km. At 4135 mtr. above sea level, this lake is extraordinary, surrounded by high mountains and offering an excellent view of the Chaukhamba peaks.
Gauri Kund – 15 km. The trekking base to Kedarnath and the road head, this village has a temple dedicated to Gauri and also thermal springs of medicinal value.
Gupt Kashi – 49 km. Famous for the temples of Ardhnarishwar and Vishwanathji.
Ukhimath – 60 km. Winter home of Lord Kedarnath temple, and the seat of the Rawal of Kedarnath during winter months.
Agastmuni – 73 km., Has a temple dedicated to the sage Agastya.
How to reach
By Air : The nearest convenient Air port is Jolly grant at Dehradun (121 Kms).
By Road : Kedarnath is connected by road with Badrinath (242 KM), Dehradun (268 KM), Delhi (450 KM), Haridwar (250 KM), Kotdwar (256 KM), and Rishikesh (226 KM).
Route : Rishikesh to Kedarnath vai Rudraprayag :- Rishikesh -> Rudraprayaga -> Agastamuni -> Kund -> Gupta kashi -> Phata -> Soneprayag -> Gauri Kund.
Gauri Kund to Kedarnath is 14 KM. This distance has to be covered by foot, ponies, palkies.
By Rail : The nearest convenient railway station are Dehradun and Haridwar. These are well connected with Delhi, Mumbai, Calcutta and rest of India through Rail network.