Teej festival
Teej is a widely celebrated festival across India. People celebrate this festival in dedication to Lord Shiva and Goddess Parvati. This festival is celebrated for marital bliss, well-being of spouse and children and purification of own body and soul.
This festival is celebrated usually in the month of July-August, so it is also called as 'Sawan festival'. Jaipur city of Rajasthan is very famous for its Teej celebrations and tourists specially come here to enjoy the celebrations of this Teej festival.
Teej is a hindi word means "third". Therefore Teej falls on the third day after the moonless night (Amavasya) and the third day after the full moon night of every month. However, the third day after the new moon or Amavasya of Shravana (श्रावण) month is the most important Teej. As Shravana (or Saawan) month falls during monsoon or rainy season when the surroundings become green, the Shravana Teej is also called Hariyali Teej (Green Teej).
This festival is quite similar to Karwa Chauth, where married women observe fast and worship gods for well being of their husbands.
Legend behind Teej festival
Parvati was Sati in her earlier life and Sati died when her father has insulted Lord Shiva.
Shiva was very sad, so Sati appears before Shiva, in her divine form, and reassures him that she will return as the daughter of Himavan.
Teej celebrations originated from a legend of Goddess Parvati. Hindu mythology states that Goddess Parvati reunited with Lord Shiva on this day. She went through hard-core tapasya or penance and took 108 births on the earth. The myth also states that she failed to have Lord Shiva as her husband till 107th birth. In her 108th birth, Lord Shiva realized her devotion and love for him and accepted as his wife.
In this birth, Parvati remembered this and wanted Lord Shiva as her husband. For this, she had observed great penance and was living only on air. Even then, Lord Shiva tested her love for him before accepting her as a wife.
Teej Customs and Rituals
Teej customs and rituals make the festival more interesting and full of colors. Women who observe fast for their husband take proper care that no carelessness is committed while carrying out the rituals. Teej festival calls for performance of all rituals seriously if one wants to be blessed with marital bliss.
Shrinjhara
To celebrate the auspicious occasion of Teej, women perform some serious rituals. It is customary for married women to return to their parents' home at the time of Teej. Married women and engaged girls get lot of presents from their father-in-law as per Teej customs. A traditional gift package called 'Shrinjhara' or 'Sindhare' is gifted to their daughter-in-law. This traditional name originated from the Hindi word shringaar meaning adornment. Shrinjhara package consists of Ghewar (sweet), traditional laheria dress (tie & dye), henna and lac bangles. All these items are used by the ladies to adorn herself.
Baya
Baya is another traditional package given to women observing fast on Teej. It includes dry fruits, mathris, new clothes, bangles and jewelry. It is given by mothers of the newly wed girls on the Teej Festival day.
Teej Fast
The most important ritual of Teej Festival is Teej Fast. Women and unmarried girls keep fast for long and healthy life of their husband. Teej fast goes for 24 long hours. It is the most rigorous fast in which a woman neither drinks nor eat.
Tradition of Lighting a Lamp
As per the ritual of Teej fasting, a woman should keep an oil lamp lit all night. If the oil lamp dies away, it is considered a bad omen.
Goddess Parvati
The most important ritual of Teej is to bedeck Parvati Mata and carry out auspicious processions on the streets. Idol of Goddess Parvati is decorated with fine jewelry and new colorful clothes. The fasting day of Teej is very vital as women pray to Goddess for marital bliss and happy life.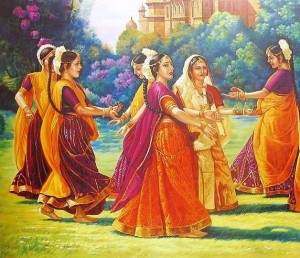 Swings
Last but not the least, swings are the common sight when Teej is near. Beautifully decorated swings are hung from trees in the garden and gaily dressed up women swing and sing traditional Teej songs. Some women also dance while singing the holy songs.