Muslim festivals
Eid-ul-Fitr and Eid-ul-Zuha are the most important events observed by Muslims. Eid-ul-Fitr marks the end of Ramadan, the month of fasting, and is a festival of great celebration. In Islamic countries it is a public holiday. The festival begins when the first sight of the new moon is seen in the sky. Eid ul Fitr is very much a community festival and people go out into the streets to exchange greetings, and visit friends and relatives.
Eid-Ul-Zuha is the festival of sacrifice which marks the end of the Hajj or holy pilgrimage, which is one of the 5 pillars of Islam, however it is celebrated by all Muslims, not just those who are on the pilgrimage.
The Eid-Ul-Zuha festival remembers prophet Ibrahim's willingness to sacrifice his son when God ordered him to. God appeared in a dream to Ibrahim and told him to sacrifice his son Isma'il. Ibrahim and Isma'il set off to Mina for the sacrifice. As they went, the devil attempted to persuade Ibrahim to disobey God and not to sacrifice his beloved son. Ibrahim drove the devil away. As Ibrahim prepared to kill his son God stopped him and gave him a sheep to sacrifice instead. Ibrahim's complete submission to the will of God is celebrated by Muslims each year.
People may think that Muharram is also a festival. Muharram is  the name of the first month of the hijri(Lunar) calender. The first day of Muharram is also termd as Al-Hijra or "The Islamic New Year's Day".
Other notable festival is Shab-e-Barat. Shab e Baraat in India and Pakistan meaning the 'Night of Innocence'. The 15th night of Shabaan is a very blessed night. In this night the Barkaat and acceptance of repentance may be accomplished. It is believed that the departed souls (Arwaah) of the Muslims visit the houses of their friends and relatives on this night.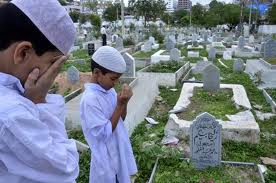 Other noticeable festival is Milad-Un-Nabi.