Damyanti
Damyanti was a very beautiful lady, who was the daughter of King of Vidarbha. She was so beautiful, that even the gods wanted to marry her. King of Devas, Lord Indra wanted that she should marry a god and not Nala.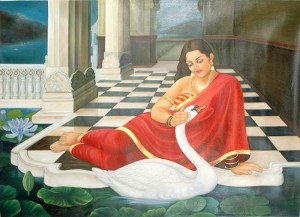 Damyanti – A beautiful maiden
Damyanti's sickness
She wanted a swayamvara to be arranged for her, but getting a swayamvara arranged was not as easy as Damayanti thought. It would be highly improper of her to approach her parents directly. She began to drop hints by eating less and losing weight, by pretending to forget things, by looking lost and gloomy and other such things. At last her mother noticed that Damayanti was not her former self and told the king about it. The king immediately ordered the royal physicians to find out what sickness was troubling her daughter. It was only after the physicians drew a blank that the king realised that his daughter was now a grown-up maiden and it was time for her to get married.
Announcement of Swayamvara
The swayamvara was announced. News reached Nala also and Nala left immediately. Since he was an excellent equestrian he made good progress. The news of the swayamvara had reached the heavens as well.
Ruckus between Indra and Nala
Four of the demi-Gods, Indra, Agni, Varun, and Yama, had also descended to the earth for the swayamvara. They accosted Nala as he was nearing Vidarbh. Indra told Nala that he would have to do them a favour. Nala protested that he needed to know what was being asked of him before he could commit. Indra got angry. "Humans consider it an honour when we ask them to do something. But you are creating a fuss. Don't you know our power? We can make you disappear and not reach the swayamvara at all," he thundered. Nala meekly acquiesced. Indra then told him to approach Damayanti and plead with her to choose from the four demi-Gods. Nala was aghast. "How can I act against my own interest," he pleaded. The threat of dire consequences was repeated. Nala tried a different route. "We are allowed in the palace only on the day of the swayamvara and that too only where the swayamvara is to be held," he said, "How will I access Damayanti?" Indra reminded Nala that he was the king of the demi-Gods and would arrange the meeting.
Meeting of Nala and Damyanti
A day before the swayamvara Indra transported Nala to Damayanti's chamber using his divine powers. The two recognised each other instantaneously. After a long embrace Nala stated the purpose of his visit. Damayanti told him not to worry. He had kept the promise made to the demi-Gods and nothing could dissuade Damayanti from garlanding Nala in the swayamvara ceremony. Nala faithfully repeated the conversation to Indra. "You have kept your word only in letter and not in spirit," Indra stated, "Now I will do what has to be done."
The swayamvara
A galaxy of princes was gathered at the swayamvara. Nala sat in one corner so as to avoid the demi-Gods, but they sought him out and sat next to him. At the appointed time Damayanti entered the hall. To her amazement she saw five people exactly like Nala sitting in a corner.
Damyanti recognises Nala
She realised that the demi-Gods were trying to trick her but was confident that her love would prevail. After watching the five for a few minutes she realised that four stared at her with unblinking eyes while the fifth was blinking regularly. She garlanded the fifth person. The four demi-Gods assumed their true form and blessed the bride and groom and went back to heaven. Another account says that Gods did not have shadows while Nala, being a human, had a shadow.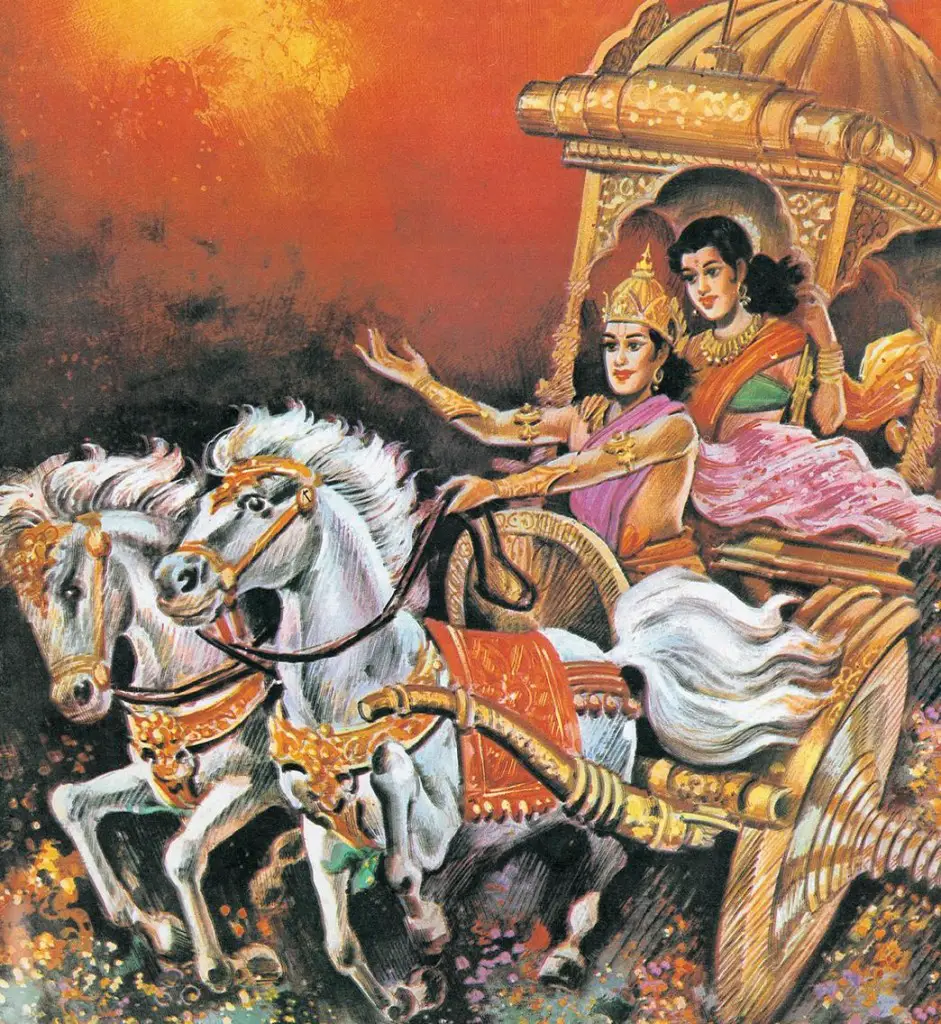 This shows that Damyanti was not only beautiful, but she had the brains too.