Boons granted by Durvasa
Though Durvasa is notorious for his flying temper and curses, there are few boons which had a great impact in indian mythology. For example, the pandavas, who are at the centre of the epic Mahabharat were born due to a boon from Durvasa to Kunti.
Boon to Kunti
Durvasa was a sage who blessed liberally when happy. This is evident when Kunti got the boon from him. This boon gave the power to summon any god she wished. This boon became helpful when she was unable to give birth to babies and summoned Surya, Pawan and Indra for herself and Ashwini kumars for Madri. Thus they conceived sons who were later known as Pandavas.
Promise to Duryodhana
Once Duryodhana did great service to sage Durvasa. He became very happy and asked Duryodhana for a boon. Duryodhana thought of a plan to do something so that pandavas get to face the wrath of sage. He asked him to visit pandavas when everyone has eaten. Thus he thought that Pandavas will not be able to serve him with food and out of anger, sage durvasa will curse his enemies. Durvasa visited Pandavas but with the help of Shri Krishna, pandavas were saved.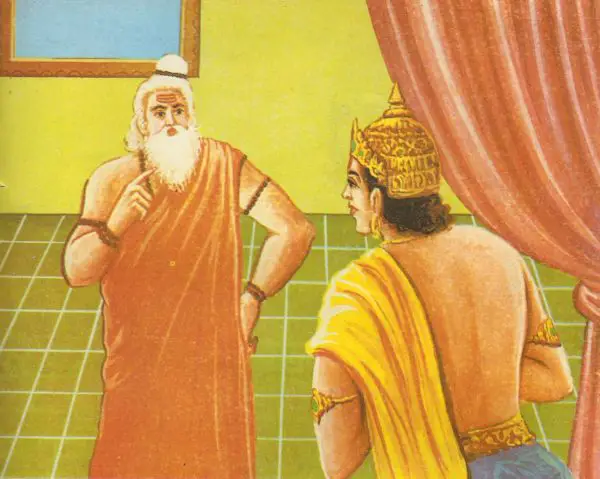 Pandavas saved from curse – Duryodhana's plan



Pandavas were once in a situation where Durvasa may have cursed them. As per the advice of Duryodhana, Durvasa with his ten thousand disciples reached panadavas. they reached at a time, when everyone had taken their meal. Draupadi has an akshaypatra which was able to feed anyone till the time she has not eaten from it.  That day, unfortunately, she ate from the patra. Durvasa demanded food for himself and devotees. Draupadi sought help from Krishna. Krishna found a grain in the patra and ate that. After that Durvasa and his disciples were not hungry.
Saving Draupadi from cheer haran
Contrary to the general Mahābhārata version, the Shiva Purana attributes her miraculous rescue to a boon granted by Durvasa. The story goes that the sage's loincloth was once carried away by the Ganges's currents. Draupadi quickly tore a piece of her garment to cover him. The sage was pleased with her. He granted Draupadi a boon which caused an unending stream of cloth to cover her when Dushasana was trying to strip her in Hastinapura's royal dice-hall.
Birth of Swaminarayan – by curse of Durvasa
Narayana took birth as the saint Swaminarayan due to a curse by Durvasa. A great debate had been held in Badrikashram, the divine abode of the deity Nar-Narayan. They were discussing the great pain, the good and honest souls were suffering at the hands of the evil demons on earth. Durvasa Rishi stood at the back of the assembly. Several hours passed, but none noticed him. Durvasa Rishi got very angry and cursed the assembly, "May you all take birth on the earth. Let those evil demons harass you and make you suffer."  On behalf of the entire assembly, Dharmadev and Bhaktidevi asked for forgiveness and pleaded with Durvasa Rishi to take back his curse. Durvasa Rishi replied, "The curse cannot be withdrawn. However, the supreme Lord will come with you onto the Earth. The Lord will destroy the evil demons and save you from your troubles." This mythological episode has been stated in the scriptures to describe the reason why the supreme Lord Swaminarayan manifested upon this Earth.  The Akshardham temple houses Swaminarayan.