Baidyanath Jyotirlinga and Deoghar
The ninth incarnation of Shiva was as Baidyanath at Deoghar in Bihar. This Jyotirlinga was established by the demon King Ravana. A devotee who worships this Jyotirlinga gets all of his wishes fulfilled. Because of this, it ia also known as Kamanalinga. Devotees carry the holy water of the Ganges from Sultanganj and for the idol of Baidyanath in the months of Shravana and Bhadrapaksha according to the Hindu calendar.
How Baidyanath sateyd at Deoghar
Once, Ravana did a tremendous penance to please lord Shiva and to get a boon from him. Even after his severe penance when lord Shiva did still not appear, he started offering his heads one by one to lord Shiva. This way he already severed his nine heads and offered them to Shiva. When he was about to severe his last remaining head, just the lord Shiva appeared before him. He blessed Ravana with unparalleled power and strength. Lord Shiva also made him a ten headed demon once again.
But Ravana was not satisfied. He requested lord Shiva to come along with him to Lanka. Lord Shiva gave Ravana s Shivalinga and warned him against keeping it on the earth, as then no power on the earth could lift that Shivalinga from there.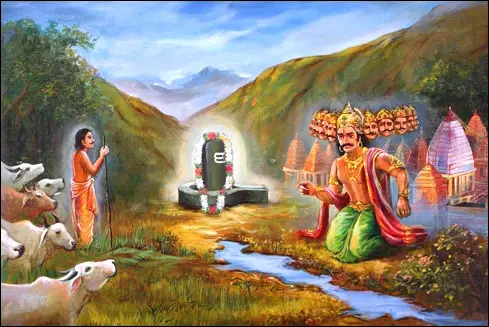 Ravana proceeded with the Shivalinga. On the way he felt the urge to urinate. Ravana gave that Shivalinga to a cowherd boy and went to urinate. The cowherd boy held the Shivalinga for sometime. He felt that the Shivalinga was becoming heavier and heavier. He could not bear the weight of the Shivalinga for too long. He kept it on the ground. When Ravana returned he became very sad after seeing the Shivalinga on the ground. He knew that, now it was impossible to lift it from that place. Ravana established the Shivalinga there, which became famous as 'Baidyanath jyotirlinga'.
This Jyotirling (Shiv's idol) here is in the form of a Vaidya (doctor). He is supposed to relieve the devotees of their dreadful diseases. According to the Shakt following, the place where the heart of Bhagwati Sati had fallen is considered as the Mahashakti peeth.