Lord Durvasa is known for his curses. But there were times, when he was helpless before the power of a humble of follower of Lord Vishnu. One such instance was of Ambarisha. The full story goes as:
Ambarisha was a king and he was deeply into following Lord Vishnu. He and his queen used to observe various fasts over the year. On second day of Ekadashi, Ambarish had to end his fast. On that very day, Sage Durvasa paid a visit to Ambarisha.
That day was Ekadashi. Ambarish was very excited and felt privileged to service Durvasa and he invited him for the lunch. Sage Durvasa, along with his hundred disciples set off to wash themselves.
They took a long time to return and meanwhile the auspicious time of ending the fast was about to be breached. So, though he did not want to, but forced by his priests, Ambarish had to end his fast with a leaf of tulsi in absence of Sage Durvasa.
This opened a whole can of worms. This was discovered by Sage Durvasa and his disciples. Durvasa, who was the second name of anger, said to Ambarish that he will have to suffer for his misdeed and he directed a demoness to kill Ambarish.
Ambarish resigned to his fate with folded hands. But nothing happens to a person, who is helped by the Lord himself. Lord Vishnu sends his sudarshan chakra to safeguard Ambarish.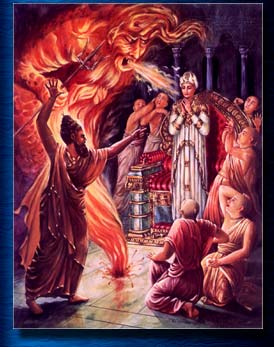 Soon, Sudarshan chakra burns the demoness. Now it was turn of Sage Durvasa as the chakra started to move towards Durvasa while spinning furiously. Durvasa realized that something unexpected was happening and his life was in peril. The hunter has become the hunted.
He ran for his dear life, but Sudarshan chakra was equal to the task. Durvasa approached Lord Shiva for a reprieve, but it was beyond his powers to stop the Sudarshan chakra. Durvasa kept running for a year and reached Lord Vishnu. He requested Lord Vishnu to stop the chakra. God replied that Sudarshan chakra returns after doing the assigned job. Durvasa started weeping.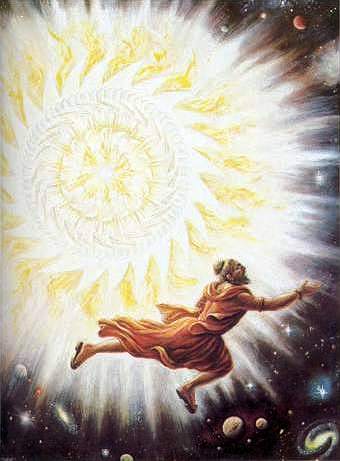 Lord Vishnu said that he can be saved only if he is forgiven by Ambarish. Sage Durvasa immediately went to him fell to his feet asking for forgiveness. Here Ambarish was waiting for him without taking food for a year.
He said, "King of Sages, your falling at my feet is not right." Durvasa replied, "Ambarish, you are a true devotee of the Lord. I have insulted you. Please forgive me. Save me from the Sudarshan Chakra." King Ambarish prayed to the Sudarshan Chakra and said, "If the love and respect I have for Durvasa at this moment are the same as they were when he first came to my palace, then, Oh Sudarshan Chakra! Please return to the Lord.
After this, Sudarshan chakra returned to Vishnu and Durvasa's life was saved.